"Sixth form students are important role models. For example, they help younger pupils with their reading. Sixth formers very much appreciate the support they get from staff. Students are taught well, and they are enthusiastic learners. Standards are rising and more students achieve the qualifications they need for their first-choice university, apprenticeships, training or employment. As in the main school, sixth form students receive high-quality careers guidance." – Ofsted, 2019
Oriel Sixth Form is an exciting, supportive and innovative place to spend your post-16 studies. We work with our students to build upon the foundations from years 7-11 at Oriel High School or elsewhere, increasing the expectation of students to work independently whilst using your relationships with expert teachers and tutors to enhance your progression. It also allows you, as one of the most senior members of the school, to take on responsibilities as a role model and leader for our younger students. The focus is squarely on academic success but we will also encourage you to develop your life skills; aspirations and employability. You will leave the Sixth Form as an independent learner and thinker and a responsible young adult.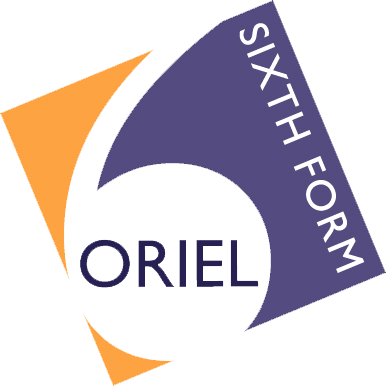 We are a serious working environment with excellent study facilities including: Seminar rooms and 6th form lab space; Study Room with ICT resources and silent study space, and access to the Library during the working day.
There are also a well-equipped Common Room and Sixth Form Café which provide space for both work and socialising. Facilities include Pool table, Table football, Music, Drink and Snack making facilities, and the café which is staffed and provides a good choice of hot and cold meals.
The majority of our students study 3 A Level courses or equivalents, for example:
A Level Biology/ A Level Mathematics/ A Level French
Or
Applied Science National BTEC/ Business CTEC Diploma
Or
A Level Media Studies / A Level Psychology/ Health & Social Care CTEC Extended Certificate
We encourage all A Level Scientists who are not studying A Level Maths to take CORE Maths; this should be a fourth option.
Other students are also welcome to add this as a fourth subject.
Students wishing to study a fourth subject that is not Further Maths or an enhancement will need a strong academic profile including 5x Grade 8 at GCSE.
Students have the option to add the EPQ to their profile in the second year providing their academic progress is strong in year one.
Take a closer look at our course information and Sixth Form guide to find out more about how your future goals can be realised at Oriel Sixth Form.
Thinking of joining us?
Please view our Sixth Form Admissions page for more details
You can contact us via e-mail: sixthform@oriel.w-sussex.sch.uk.