'It's clear to see that training is part of the DNA of Oriel High School' (School Direct trainee 2023)


The Oriel ITT Partnership
Our strategic partner schools include:
The Holy Trinity Church of England School
Ifield Community College
Oakwood School
The Forest School
The Angmering School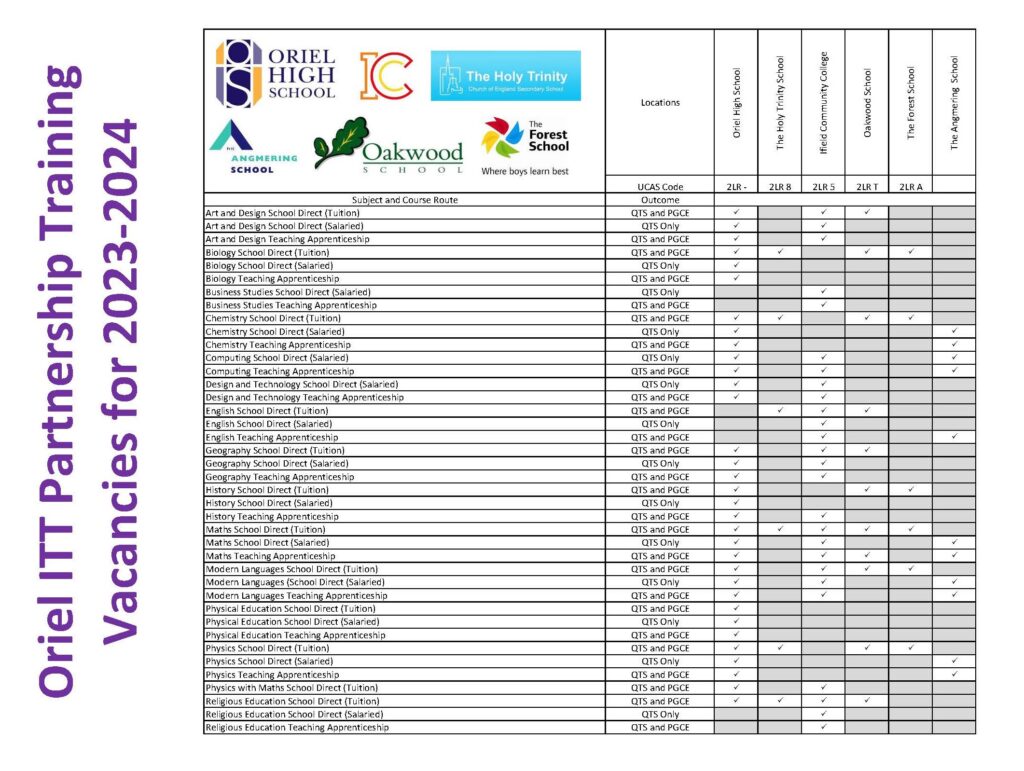 Routes into Teaching map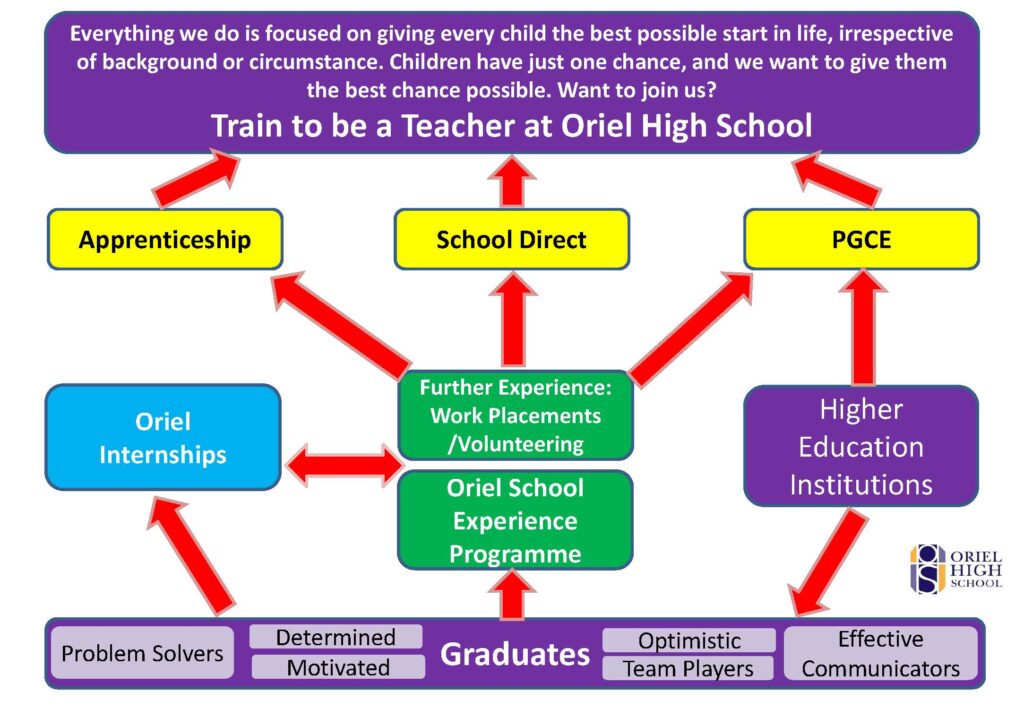 Employment-based Routes into Teaching
Search for Initial Teacher Training courses online here: https://www.gov.uk/find-postgraduate-teacher-training-courses
Apply for Initial Teacher Training courses online here: https://www.gov.uk/apply-for-teacher-training
School Experience Days
Thinking of Teaching, but need some School Experience?
Gaining classroom experience before starting your initial teacher training (ITT) can help you be sure that a career in teaching is right for you. It can also support your application for ITT by spending some time in a classroom and speaking to experienced teachers, school staff and students.
Our programme will give you the experience of a typical day in a secondary school and provide you with the opportunity to talk about teaching to teachers and trainees.
The day will include:
A tour of the school, observation of a variety of lessons of the subject(s) of your choice, a chance to meet with senior leaders and teaching staff and an opportunity to ask questions regarding the School Direct programme.
When and where:
Oriel High School, School Experience Days are held in a range of subjects every Wednesday between 8am-3pm of the school academic year.
More information
To book places on the School Experience Day you will need to register at the SEP programme follow this link to register. http://www.education.gov.uk/get-into-teaching/school-experience/sep
Or by emailing schooldirect@oriel.w-sussex.sch.uk for further details.
Graduate Internships @ Oriel High School
Graduate Internships are work based training placements designed to give you an experience of working in a school prior to going onto teacher training or other professional qualifications.
This route is suitable for new graduates who are still considering their career options and want to get some paid, hands on experience before committing themselves. Internships at Oriel can be for one, two or three terms and can include foci such as:
Literacy and Numeracy intervention to support student progress
Student mentoring
Supporting Pupil Premium Students
Intervention tutoring
Supporting students with Special Educational Needs
Working with and supporting specific subject areas
Extra-Curricular activities
To register your interest and find out more please email
internship@oriel.w-sussex.sch.uk
School Direct Experience Day – Visitor testimonials
"I have worked in and visited a good number of schools. This one stands out in all areas with its strong culture and structure, friendliness of staff and well behaved students"
"My experience with you has really set a high level of expectation and motivation. For once the rhetoric of a school website has been overshadowed by the reality. The intelligence, the professionalism, courtesy etc, really does set you apart"
"It was a pleasure to visit Oriel and have the opportunity to sit in on classes. Staff were very friendly and helpful and students were respectful. Many thanks for the school experience".
"Very informative day visiting your school. Impressed with student behaviour"
"I'd like to take this opportunity to say a big thanks to you and to all your colleagues for their valuable advice on my school experience visit. I have been offered a place to do PGCE Mathematics from the University of Sussex and I strongly believe that the one-day school experience at Oriel played a big role in this. I went out from your school with loads of experience, information, and confidence as an aspiring teacher. Please continue this, and convey my wishes and thanks to all the teachers."
School Direct Teacher testimonial
"So in May 2015 I decided I would turn my life upside down, to completely change my career and take a leap of faith into teaching. At the time I was a police officer, working as a detective and going through a promotion board, I had a mortgage and lived happily around friends. BUT… I had always fancied teaching and life is too short! I had volunteered as a governor at my local school and got myself involved in a few lessons, so I knew it was something I wanted to do one day. The problem for me was how? And how much would it cost?
With post graduate qualifications and 7 years professional experience as a police officer, I was reluctant to go back into full time education. Moreover, with a mortgage, I couldn't afford it! Schools Direct has made it possible for me. It has allowed me to work in a school from day 1, on a salary, learning on the job. I started on an inset day and was handed a timetable, a timetable with my name at the top and classes which had my name down as their teacher! Needless to say, the learning curve was huge. I was well and truly in the deep end; saying that, I thrived on the challenge. The school have been nothing but welcoming and supportive every step of the way. Eight weeks later, I am feeling more and more comfortable, aspiring to the next challenge. Every lesson I learn something new. Even the difficult lesson with my difficult class on a Friday afternoon strengthens my resolve! I am really enjoying delivering lessons, sharing my experiences in life, building relationships with staff and students. I have even led a group on the year 7's residential activity trip, raft building and swinging from ropes!
It has been tough. In my mind, this is without a doubt the toughest way to enter teaching, but for every tough day I have had, there have been many a good one! It's been hugely rewarding. So far so good, not looking back yet!"
– School Direct Salaried Trainee, Science
For more testimonials please click here