"History belongs above all to the man…who needs models, teachers, comforters and cannot find them among his contemporaries" – Friedrich Nietzsche
Curriculum Intent
Throughout their journey from Year 7 to Year 13 we aim to provide a sophisticated History education that will continue to give students a coherent and rich knowledge and understanding of Britain's past and that of the wider world. But our prime aspiration is to develop students' disciplinary knowledge and skills, providing them the 'tools' to make sense of the 'substance of history – progressively becoming confident academic historians.
Our learning curriculum has been designed to achieve five key aims:
Drive the elements of successful historical learning – 'Historical knowing', 'Thinking Historically' and 'Writing Historically'.
Ensure seamless transition in between each of the key stages in order to create more independent learners.
Experience the relevance of History inside and beyond the classroom.
Engage and support students of all abilities to become successful in the subject.
Inspire a new generation of historians.
Key Stage 3
What is the aim of the KS3 History curriculum?
The intention of the KS3 History curriculum is for students to develop a coherent and knowledge rich understanding of the significant aspects of Medieval, Early Modern and Modern histories of Britain's past and that of the wider world; as well as helping them to understand their own personal histories and significant aspects of the world in which they live in, whilst further developing their own historical enquiries in histories that matter to them.
All KS3 lessons are driven by 'Stepped Historical Enquiries', which will aim to develop the following driving elements of successful historical learning:
Historical Knowing: improving substantive knowledge recall and increase wider chronological awareness.
Thinking Historically: helping students to progress in making sense of the 'substance' of history with application of second-order historical concepts (cause and consequence, change and continuity, similarity and difference, significance); as well as engaging with the use of historical sources and interpretations, analysing and evaluating how the past is constructed and interpreted in different ways as emerging skills.
Writing Historically: progressing students with the tools to 'speak like a historian', as well as writing and communicating a range of small, medium and extended responses to specific enquires.
Year 7 study introduces students to the tools (second-order concepts) that will help them make sense of the 'substance' of History – applying their practice on a thematic study of the first Ancient British peoples. Students further study some of the key political, religious and social turning points that dominated Medieval Britain from 1066-1509.
Year 8 study builds on students' chronology exploring the extreme religious and political changes that dominated Early Modern Europe and Britain, 1509-1745. Students will be introduced to the changing industrial landscape of Britain that informed its political power and development of empire from 1745-1901.
Year 9 study will conclude students' chronological understanding by studying the impact of global war and politics in the twentieth century; as well as the new ideas that caused new forms of conflict and the extreme changes the twentieth century brought in Britain, Europe and the wider world from 1901 to the present day.
GCSE History (9-1)
Students will study a broad sweep of medical history from medieval Britain to the present day for their Thematic study; delving deeper into the theme by learning about a specific historic environment – injuries, treatment and the trenches of the British sector of the Western Front, 1914-18.
Students will engage in a British depth study focusing on some of the key individuals, events and situations that helped to shape Henry VIII's Britain, 1509-1540.
With the Period study, students have the change to study the ideologies and political developments that have shaped the world we live in today as a result of the Cold War, 1941-1991.
Students will also learn about another nation's history in depth, Germany; with the Modern Depth study exploring the complexity of the Weimar Republic and development of the Nazi regime from 1918-39.
Our exam board for GCSE (9–1) is Pearson Edexcel.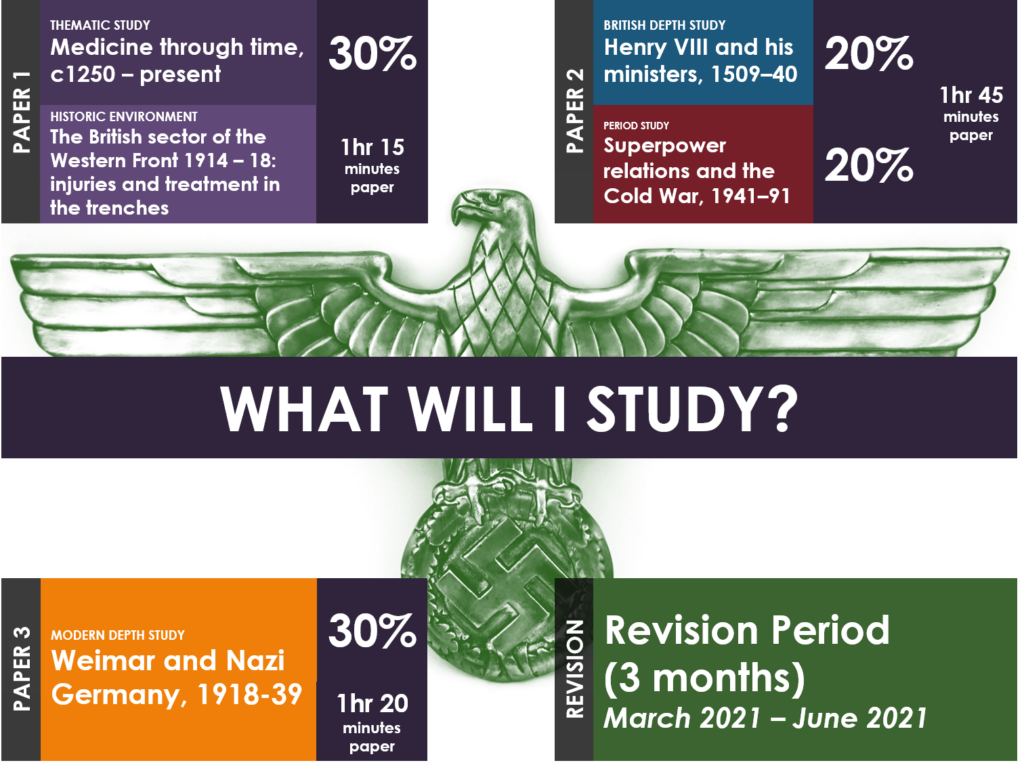 Key Policies for GCSE History
A-Level History
The Breadth Paper component looks at change and continuity over one hundred years of Russian history from 1855–1964; exploring the significant developments and historians' interpretations that brought about the collapse of the Tsarist regime by 1917, to the extreme heights of the Soviet era.
The Depth Paper component will look at the period of major political, economic and social changes of Modern Britain, in depth, from 1951–2007, exploring the interrelationship of a variety of perspectives with reference to contemporary evidence from the period.
The Non-Examined Assessment (coursework) component is a historical investigation which gives students an opportunity to research a topic and to produce an independent piece of extended writing; in this instance on the key political, financial and religious issues that increased tensions towards the outbreak of the English Civil War in 1642.
Our exam board for A Level is AQA.
Oriel History Enquiry

Oriel History Enquiry is a unique enrichment programme and competition for all students in Key Stage 3 History.
Each year group is given a specific historical focus, where they learn to develop skills in historical research and produce a sophisticated piece of work that reflects critical thinking and wider-historical understanding; as well as the ability to present their projects that tap into their most creative strengths. Student winners from each class are entered into a final internal competition in the summer term.
This major super-curriculum programme is a staple highlight for the History department, as well as for the whole-school calendar; showcasing the outstandingly epic and passionate work of our key stage 3 History students. Professor Simon Thompson, from the University of Sussex, observed that 'the quality of work was breath taking and sets the school apart from any others'. As a department, we are proud to be unique to offer this scheme and opportunity to its students.
Learning Outside the Classroom
History Enrichment
The History Department greatly values the importance of opportunities to provide a sense of History 'beyond the classroom', helping our students experience the relevance of our subject beyond the national curriculum.
Day trips and workshops
The History department aims to have a major staple trip/visit for each key stage. The department has run trips to the Tower of London, Imperial War Museum and has had Holocaust survivor testimony visits for key stage 3. GCSE students will have the opportunity to go to Hampton Court Palace to support their ongoing learning and revision for their British depth study, as well as WW1 Living History workshops for our Year 11s to support their Historic Environment revision.
Residential trips
History staff continue to run successful residential trips which help students to truly experience world History at their feet, but is also successful in helping students to provided long-lasting memories and relationships with fellow staff and students. Sixth Form students are offered an epic residential trip to Russia (tours in both Moscow and St Petersburg). And during Oriel's Activities Week, we continue to run our new residential tour for key stage three students to Rome; allowing students to experience the historical, social and cultural sights Rome has to offer.
Oriel Remembers Events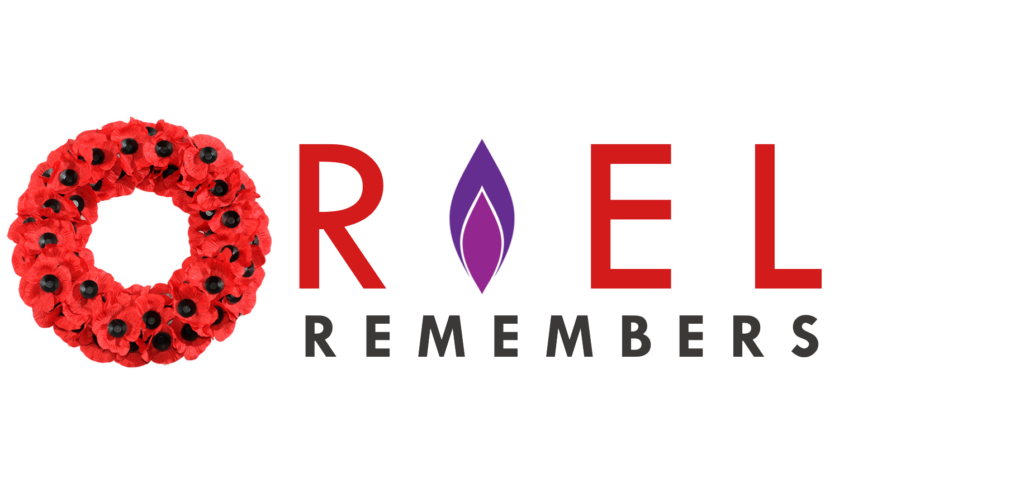 The History Department hosts two major commemorative occasions during the academic year, leading the wider-school community in national reflection – Armistice Day (November) and Holocaust Memorial Day (January). Both these major events within the school calendar are organised, led and delivered by staff and students, whom comprise of the 'Oriel Remembers' Team.
Armistice Week
Oriel plays its local part in raising funds for the Royal British Legion, delivers assemblies reflecting on the importance of remembrance, and culminates in our courtyard Armistice Service led by our student Cadets groups.
Holocaust Memorial Week
Oriel plays its small part in delivering Holocaust Memorial assemblies and our candle services to mark HMD, remembering victims of the Holocaust and all subsequent genocides around the world.