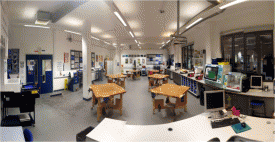 "Design and Technology is about making things that work well. Creating these things is hugely exciting: it is an inventive fun activity." – Sir James Dyson, Industrial designer, inventor and founder of Dyson
Subject Overview
The Design and Technology curriculum at Oriel High School provides opportunities for students to develop their capability, through combining their designing and making skills with knowledge and understanding in order to create quality products. This knowledge and understanding is taught specifically within Design and Technology lessons but crosses over closely with other curriculum areas such as Maths, Science, Business Studies, ICT and PDC. Design and Technology lessons also provide excellent opportunities for teamwork and for students to apply value judgments of an aesthetic, economic, moral, social, and technical nature in their designing and to existing products.
The Design and Technology department at Oriel High School consists of four members of teaching staff and two technicians. It is an incredibly well resourced department that boasts seven specialist Design and Technology rooms; three Resistant Materials workshops, two Catering/Food Technology rooms, a dedicated computer suite and a Textiles room. There is also a heat room within the Resistant Materials area of the department where students can braze, solder, MIG weld and sand cast metal.
Key Stage 3 Curriculum
Whilst in Years 7, 8 and 9 students study Design and Technology for two periods a fortnight on a carousel system and work with many different materials and technologies across the different Design and Technology disciplines in Resistant and Compliant Materials. Each carousel lasts approximately twelve weeks in which time they will be set four pieces of homework, be assessed on their practical outcomes and an end of unit test. The table below is an example of what students will study at Key Stage 3.
| | Textiles/Graphics | Product/Systems | Food Preparation and Nutrition |
| --- | --- | --- | --- |
| Year 7 | Ugly Dolls – A textiles project to create a stuffed toy | Bird Feeders – create custom designed and handmade pine bird feeders | Crudité and dip, Omelette, Lemon Drizzle tray bake, Rice Krispy treats, Oaty biscuits |
| Year 8 | Glow Light – creating a wooden light box with laser cut design on the front | Night Light Circuit – A colour changing LED circuit which turns on in the dark | Cheese twists, Scones, Quorn stir fry, Chocolate muffins, Vegan Tomato pasta |
| Year 9 | Clock – create a clock in a style of an iconic design movement | MP3 Speaker project – design, make and assemble an MP3 speaker circuit and customised casing | Swiss roll, Sausage and wedges, Fajitas, Fruit crumble, Roasted Veg muffin, Pizzas |
Key Stage 3 Food Technology Ingredients Letters
Classes at Key Stage 3 never have more than twenty-one pupils in them, and are taught in mixed ability groups. Classes are taught by specialist teachers in that Design and Technology discipline and offer an insight as to what their particular discipline entails at Key Stage 4.
Key Stage 4 Curriculum
We have 4 courses available for pupils who wish to opt for a Design & Technology or Food option for years 10 and 11. There are 2 food options and 2 materials based D&T options, each taught over 5 hours per fortnight. The D&T GCSE is the perfect option for those who enjoy the freedom to come up with their own creative ideas and bring them to life. For pupils who particularly enjoy the practical side of D&T and want to learn more about using the larger machinery the department has to offer we have an Engineering course. In food we have the choice between the Food Preparation and Nutrition GCSE focusing on the science behind what we eat and the more vocational Hospitality and Catering Award.
Food Preparation and Nutrition GCSE
Year 10

Food, nutrition and health
The science of food
Food spoilage
Where food comes from
Factors affecting food choice
Preparation and cooking techniques

Year 11

Food Preparation assessment (35% of final grade). Pupils will design and make 3 unique dishes
Food science Investigation (15% of final grade). Pupils carry out a scientific investigation into the use of certain ingredients in food products
Preparation of the written exam covering all aspects of theory form the course (50% of final grade)

Link:
https://www.eduqas.co.uk/qualifications/food-preparation-and-nutrition/
Hospitality and Catering Level 1/2 Award
Topic areas covered

How hospitality and catering provisions operate
How hospitality and catering provision meets health and safety requirements
How food can cause ill health
How hospitality and catering provision meets specific requirements

Unit 1
(Exam in Yr 11)
In this unit, you will learn about the different types of providers within the hospitality and catering industry, the legislation that needs to be adhered to and the personal safety of all of those involved in the business, whether staff or customers. You will learn about the operation of hospitality and catering establishments and the factors affecting their success. The knowledge and understanding you gain will enable you to respond to issues relating to all factors within the hospitality and catering section and provide you with the ability to propose a new provision that could be opened in a given location to benefit the owner and the local community.
Unit 2
(Coursework)
In this unit you will gain knowledge of the nutritional needs of a range of client groups in order for you to plan nutritional dishes to go on a menu. You will learn and develop safe and hygienic food preparation, cooking and finishing skills required to produce nutritional dishes.
Link:
https://www.eduqas.co.uk/qualifications/hospitality-and-catering/
Design & Technology GCSE
Topic areas covered

Identifying requirements
Learning from existing products and practice
Implications of wider issues
Design thinking and communication
Material considerations
Technical understanding
Manufacturing processes and techniques
Viability of design solutions
Analyse existing products

Mini projects

Pewter casting
Passive Speaker
Scrapheap challenge racer
Laser Cut Keyrings
Name Tag
Christmas Decorations

Component 01: Principles of design and technology
This includes both the 'core' principles that all students must know, and 'in-depth' principles that are more specific to the materials or systems they have deeper practical and design experience of.

Students should:

Analyse existing products
Demonstrate applied mathematical skills
Demonstrate their 'core' design and technical knowledge and understanding
Demonstrate and apply their in-depth technical knowledge of working with materials, ensuring functionality of products or systems and manufacturing processes and techniques

Component 02/03: Iterative design challenge
Central to this non-examined assessment is the requirement for learners to understand and apply processes of iterative designing in their design and technology practice: exploring needs, creating solutions and evaluating how well the needs have been met. This component does not limit the range of materials or processes a learner uses when developing their design solutions.

Students produce a chronological portfolio and final prototype(s). This demonstrates their understanding and independent management of and skills in iterative designing, in particular:

The interrelated nature of the processes used to identify needs and requirements (explore)
Creating solutions to meet those needs (create)
Evaluating whether the needs have been met (evaluate)

Link:
https://www.ocr.org.uk/qualifications/gcse/design-and-technology-j310-from-2017/
Engineering Manufacture Level 1/2 Award
Year 10

Introductory design and make projects using metals and plastics
Technical drawings
Using the centre lathe
Using workshop machinery
Creating mechanical joints
Heat processes such as brazing and annealing
R110 Assessment using manual machines (25% of final grade)
R111 Assessment using CAD/CAM (25% of final grade)

Year 11

Using the CNC lathe and milling machines
Using the laser cutter
Quality control in manufacturing
Scales of production
Use of modern technology and IT
R112 Assessment on Quality Control Processes (25% of final grade)
R109 exam covering theory from course (25% of final grade)

Link:
https://www.ocr.org.uk/qualifications/cambridge-nationals/engineering-manufacture-level-1-2-award-certificate-j832-j842/
Key Stage 5 Curriculum
The Design and Technology options at Oriel Sixth Form are Product Design or Design Engineering. Both are taught over eight periods a fortnight. Design and Technology A Levels are awarded by the OCR exam board and consist of 2 examined units totaling 50% and a large non examined assessment also worth 50% where pupils have to design and make a product or prototype of their own.
In Year 12 and 13 students build on their learning from Key Stage 4 and further their knowledge and understanding on their chosen subject. The table below is an example of what students will study at Key Stage 5.
Product Design (H006) focuses on consumer products and applications and their analysis in respect of:
Materials, components, process and their selection and uses in products and/or systems
The selection and use of the above in industrial commercially viable products and practices.
Design Engineering (H004) focuses on engineered and electronic products/systems with their analysis in respect of:
Function, operation, components and materials
The selection and use of the above in commercially viable products and/or systems.
OCR Product Design/Design Engineering
Component 01: Principles of…

Analyse existing products
Demonstrate applied mathematical skills
Demonstrate their technical knowledge of materials, product functionality, manufacturing processes and techniques
Undertake case studies to demonstrate their understanding of wider social, moral and environmental issues that impact on the design and manufacturing industries

Component 02: Problem solving in…

Apply their knowledge, understanding and skills of designing and manufacturing prototypes and products to given situations and problems
Demonstrate their higher thinking skills to solve problems and evaluate situations and suitability of design solutions

Component 03/04: Iterative design project

Central to this this non-examined assessment is the requirement for students to understand and apply processes of iterative designing in their design and technology practice: exploring needs, creating solutions and evaluating how well the needs have been met
Students identify an engaging and challenging context of their own choice that offers design opportunity or problem to respond to in the development of a design solution. They create a chronological portfolio of evidence in real-time as they design, make and evaluate the project according to the iterative processes of explore, create and evaluate

Link:
https://www.ocr.org.uk/qualifications/as-and-a-level/design-and-technology-h004-h006-h404-h406-from-2017/